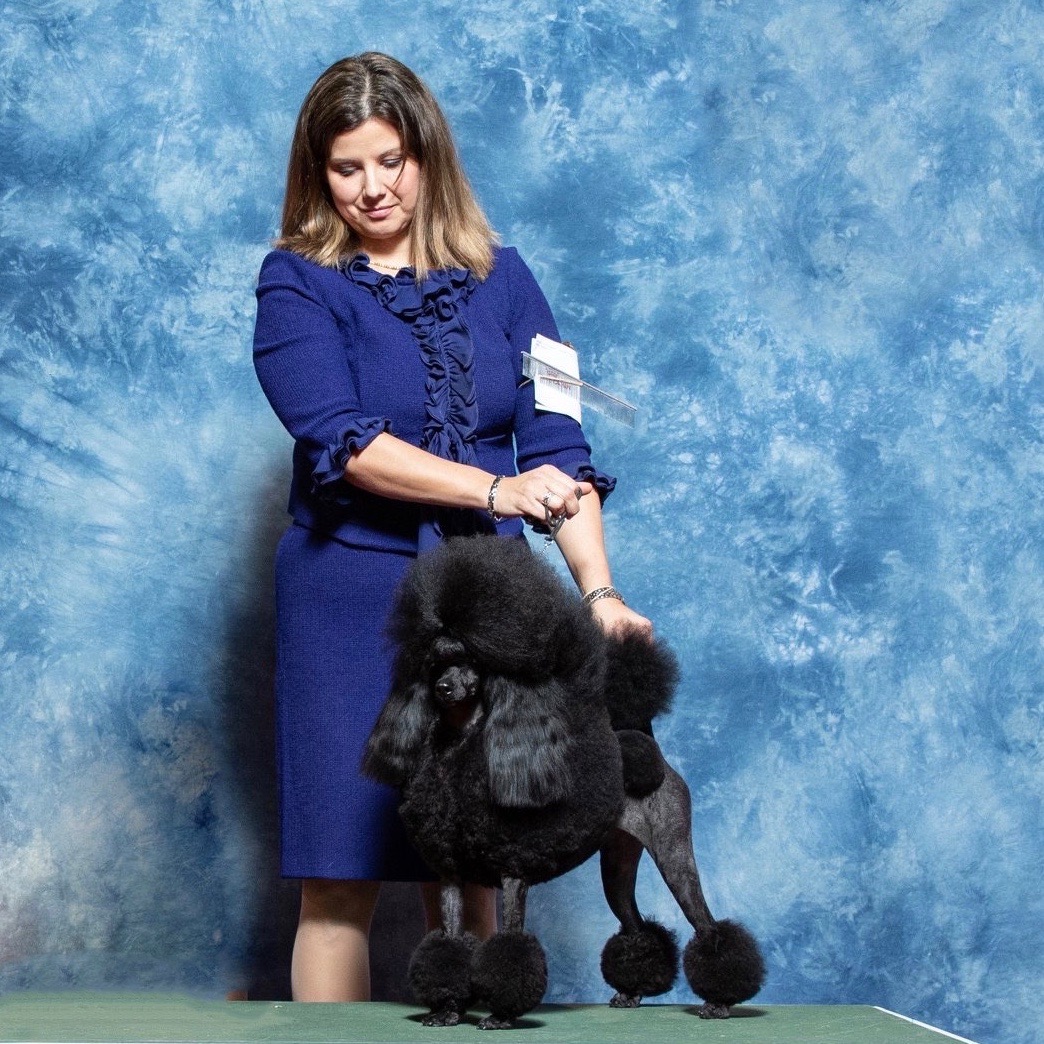 Jody Garcini
Jody Garcini (Paquette) is a second generation dog person. Her parents Wendy & Richard Paquette were successful All Breed dog handlers, world renown Shih Tzu breeders under the Wenrick prefix and both are currently International known All Breed Judges.
Jody's natural talents and prowess with dogs were evident early as she excelled in Junior Handling at a young age became Canada's Top Junior Handling National Champion twice and represented Canada at the world famous Cruft's dog show.
Jody is a Professional dog handler and has had the opportunity to show dogs in all 7 groups earning accolades as a talented and knowledgeable All Breed handler. Her experience in both long haired, short coated and terrier coats combined with her exceptional teaching and mentoring over the years uniquely qualifies her as an educator. Jody is not only a successful dog breeder, her Shih Tzu Panda won Group 1st at Westminster but also has bred many top winning and producing Whippets and Springer Spaniels. Her exceptional talents combined with her confident outgoing personality will guarantee your success as she shares her knowledge freely to all her willing students.
Leonardo Garcini
Leonardo Garcini, originally from Mexico, began his career in Terriers in the early 90's breeding and handling Miniature Schnauzers. He had bred numerous champions as well as Handled many Top terriers before coming to the United States to continue his career under the guidance of Ernesto Lara & Peter Green.
Since 2009 Leonardo has been working as a professional handler. He has also had the honor of winning Best In Show at Montgomery in 2015 and 2018. Leonardo is currently breeding Wire fox Terriers under the Garcini prefix and enjoying a successful career as a professional handler here in Kentuckiana.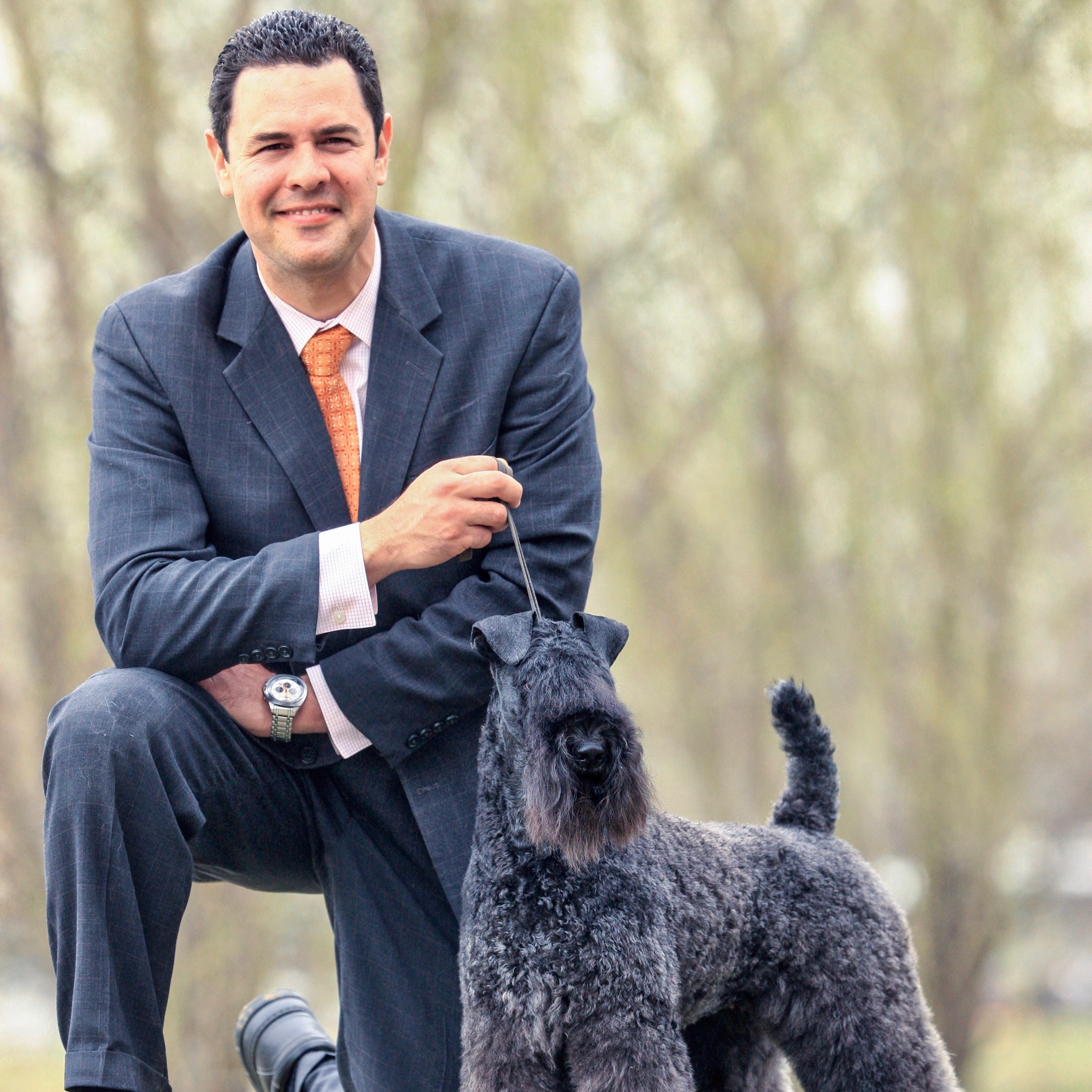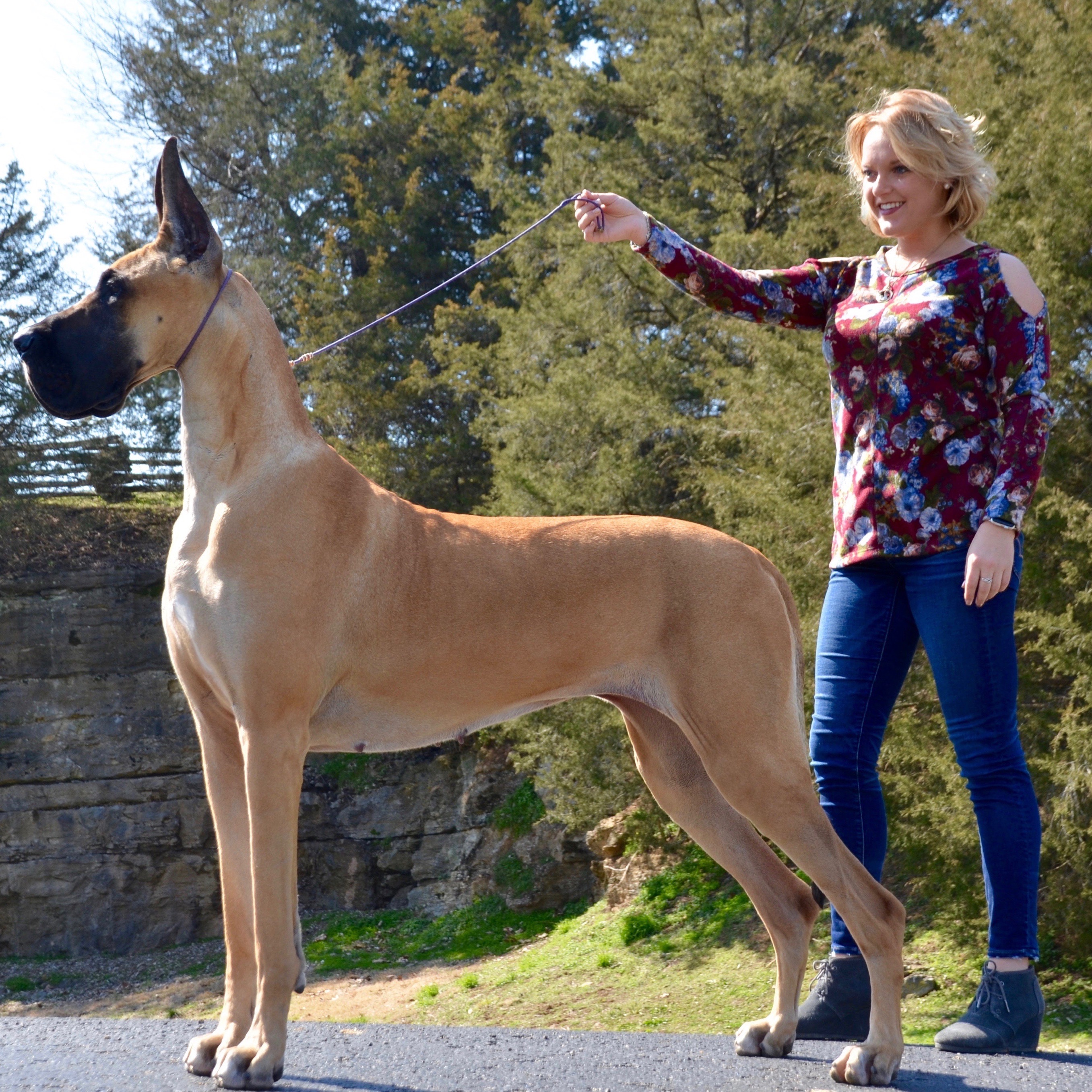 Tristen Lawrence
Tristen is a third generation professional handler and dog fancier. Her Grandparents (on both sides) started showing dogs in the 1960's and her parents later met in junior handling. Today Tristen has owned and finished Great Danes, Wirehaired Dachshunds, Whippets, and an American Foxhound. Additionally she has campaigned multiple top 20 Great Danes and won awards at all breed, national, and international levels.
Robin Novack
Robin became involved in AKC dog shows through her sister's first dog acquired from Marge Rollins, CH Venetian Bobby Bear. This was Robin's first foray into the world of AKC dog shows and she never looked back. "Bobby" led to a part-time after school job at a boarding kennel owned by Lorie Carlton of Belle Creek Bichon fame. The job, in turn, led to a second Novack family Springer named Tiffany, acquired from Karen Prickett Miller. Eventually, Robin went to work for Karen, and after a long and dedicated apprenticeship with the renowned Springer breeder and handler, Robin went out on her own in 1991. Since then, Robin has campaigned multiple dogs to top all breed and sporting group contenders along with winning multiple National Specialties. She has won over 300 Best in Shows over the course of the years and remains actively involved in the Telltale breeding program.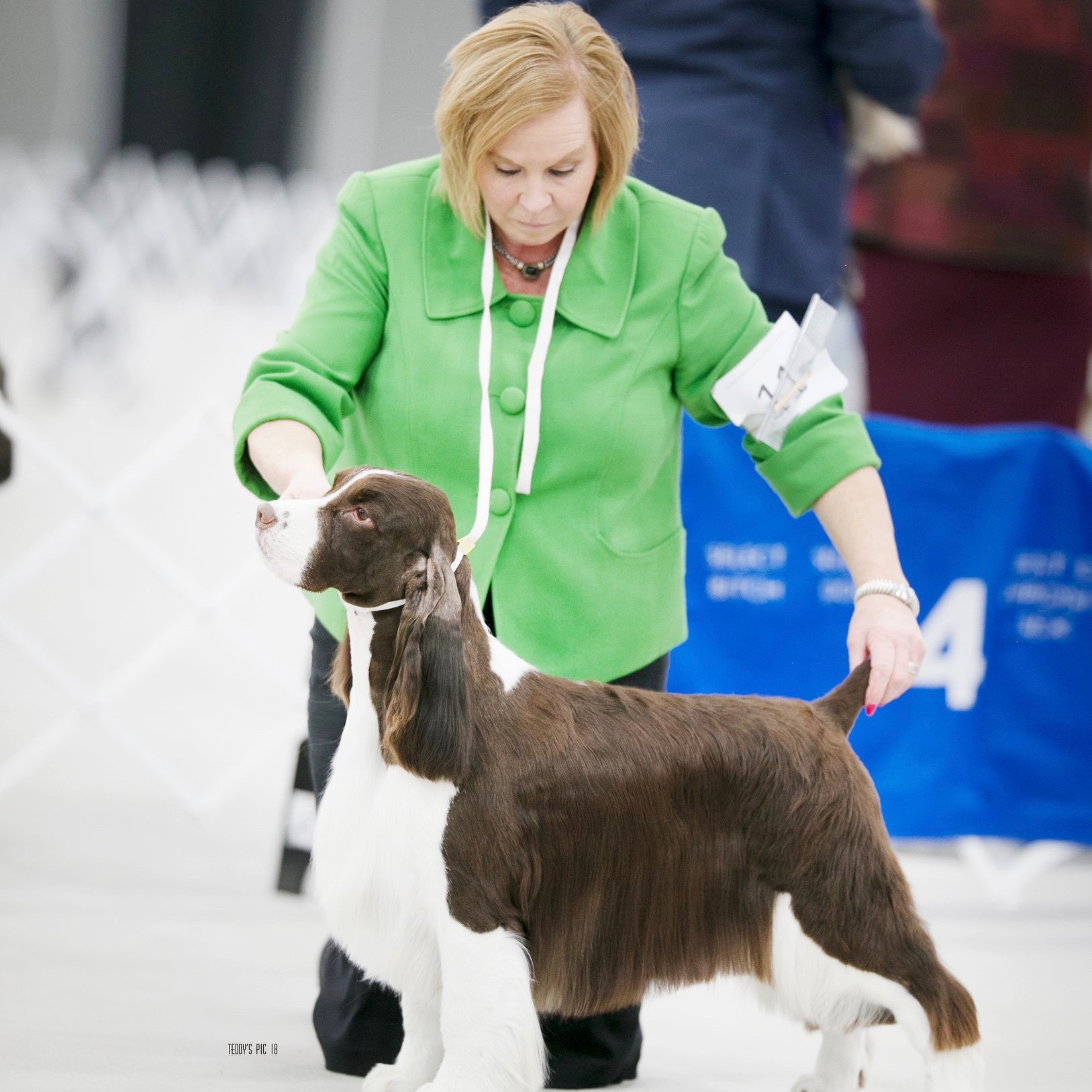 Laura King
Laura is a second generation dog fancier. Her mother is an AKC multi-group judge and successful breeder of Belgian Sheepdogs and Schipperkes who cultivated Laura's interest in dog shows at an early age. Laura finished her first dog (one she owned and trained herself) at the age of eight and has never looked back. Throughout her years in high school and college she worked for many different handler, honing her love for the dogs and the sport.
Laura has won Best in Shows on dogs from each of the seven groups, along with multiple National Specialties from five groups. She piloted the top Best in Show winning English Cocker and Siberian Husky in history. She is currently actively involved in both the Telltale ESS and KbPride Cavalier breeding programs as well as being the regional representative for the AKC Professional Handlers Program.
Heather Blakeman, CPDT-KA
Dogs have been at the center of Heather's life for as long as she can remember. From her beginnings in 4H Dog Club and AKC Junior Showmanship, she has since amassed more than 20 years' experience training and presenting dogs in AKC conformation, as well as her own dogs in various performance sports. Heather specializes in the professional handling of herding and working breed dogs. As a professional dog trainer she enjoys working with dogs of all breeds, shapes, and sizes on issues ranging from puppy socialization and basic manners training to managing behavior disorders such as separation anxiety or reactivity.
Heather is passionate about animal behavior science and loves helping owners strengthen their communication and teamwork through evidence-based training. Heather graduated with a B.S. in Animal Sciences from the University of Kentucky in 2013, received her Certified Professional Dog Trainer accreditation from the independent certification council, CCPDT, in 2017, is a Fear Free Certified Professional, and a Professional Member of the Association of Professional Dog Trainers. She is also an All-Breed Junior Showmanship Judge and a Certified AKC CGC & Trick Dog Evaluator. Heather is proud to be a passionate proponent of encouraging and supporting the next generation of dog fancier youth.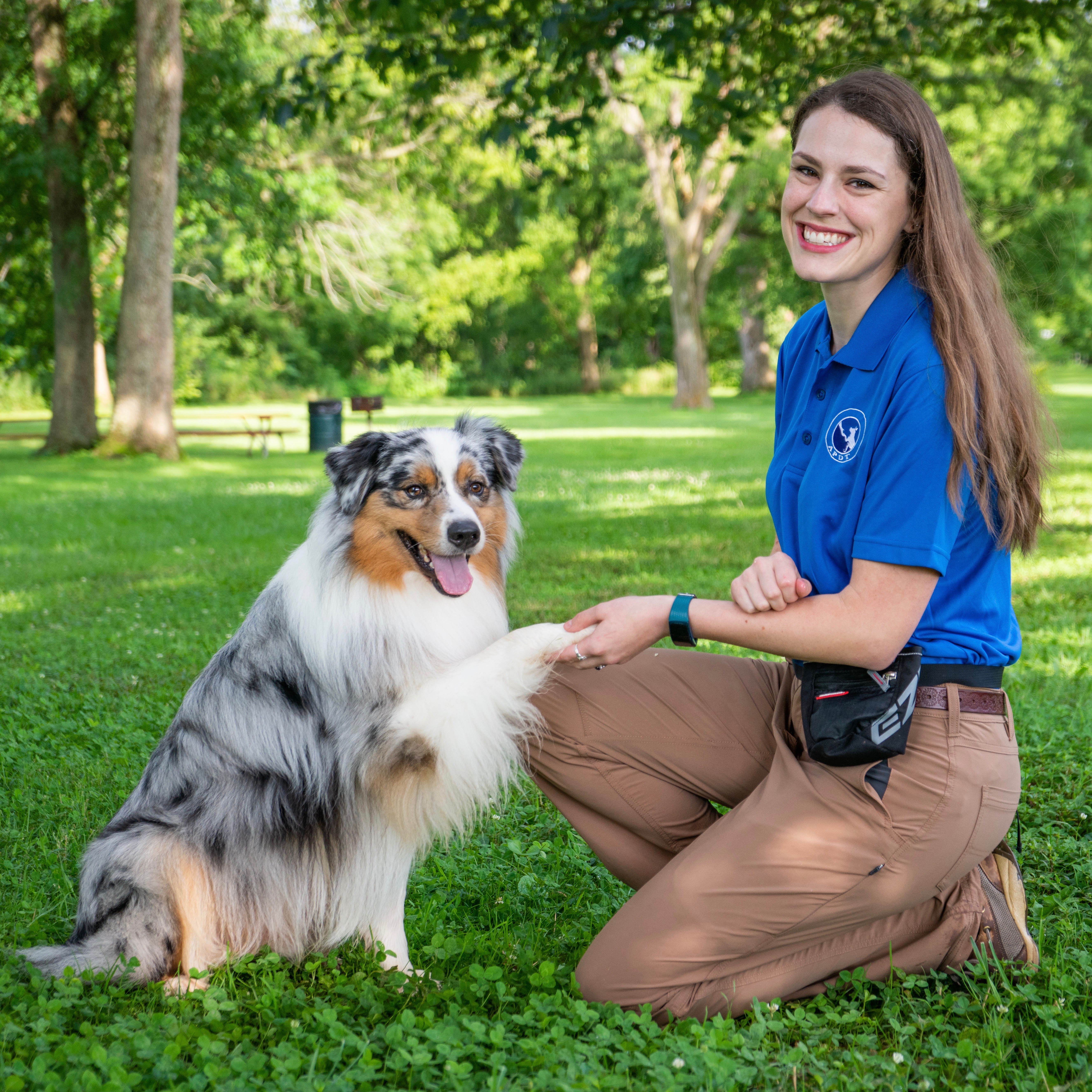 Sarah Perchick
Sarah has been involved with showing dogs since the early 1990's showing many different breeds along the way. Her fondness for Poodles, combined with her her amazing grooming talent and dedication to coated breeds has established her as one of the country's authorities on the breed. She has piloted several dogs to top spots including winning Poodle Club of America, Group Firsts at American Kennel Club National show and the Group at 'America's Dog Show' Westminster. Along the way Sarah has won 145 All Breed Best In Shows, countless Specialty Shows including piloting Standard Poodles to #1 in the breed 5 times from 2010 through 2018. Along with her husband Matt, Sarah continues her journey citing hard work, dedication and passion for her profession as the main factors contributing to her success.
Lindsay's love of dogs and her career in AKC dog shows started early when she won her first Group Win at 7 years old with her Duck Toller, CH Cumberland Pool of Jetstream. Her mother bred Collies under the prefix "Jetstream", as a second generation dog person, Lindsay fell in love with the sport, and had many wonderful mentors which led her to her first bred by champion duck toller, whom in 2007 won an Award of Merit and Best Bred By at the Eukanuba Dog Show and was piloted to #2 toller 2008. By 2010, Lindsay owned her first Smooth Fox Terrier and has since worked with Luc Detry of "Belfox" and bred, owned, and handled Smooths with Andrea Curran of "Decorum". Lindsay has owned and handled multiple winners at Montgomery County, multiple Best in Speciality Show winners and an all-breed Best in Show Winner "London", BIS BISS Decorum Spot On. Over the years, she has had the pleasure of working with and learning from numerous all-breed handlers and has been working with Jennifer Hoffmann, of Forever Golden Retrievers since 2014 handling and breeding Golden Retrievers.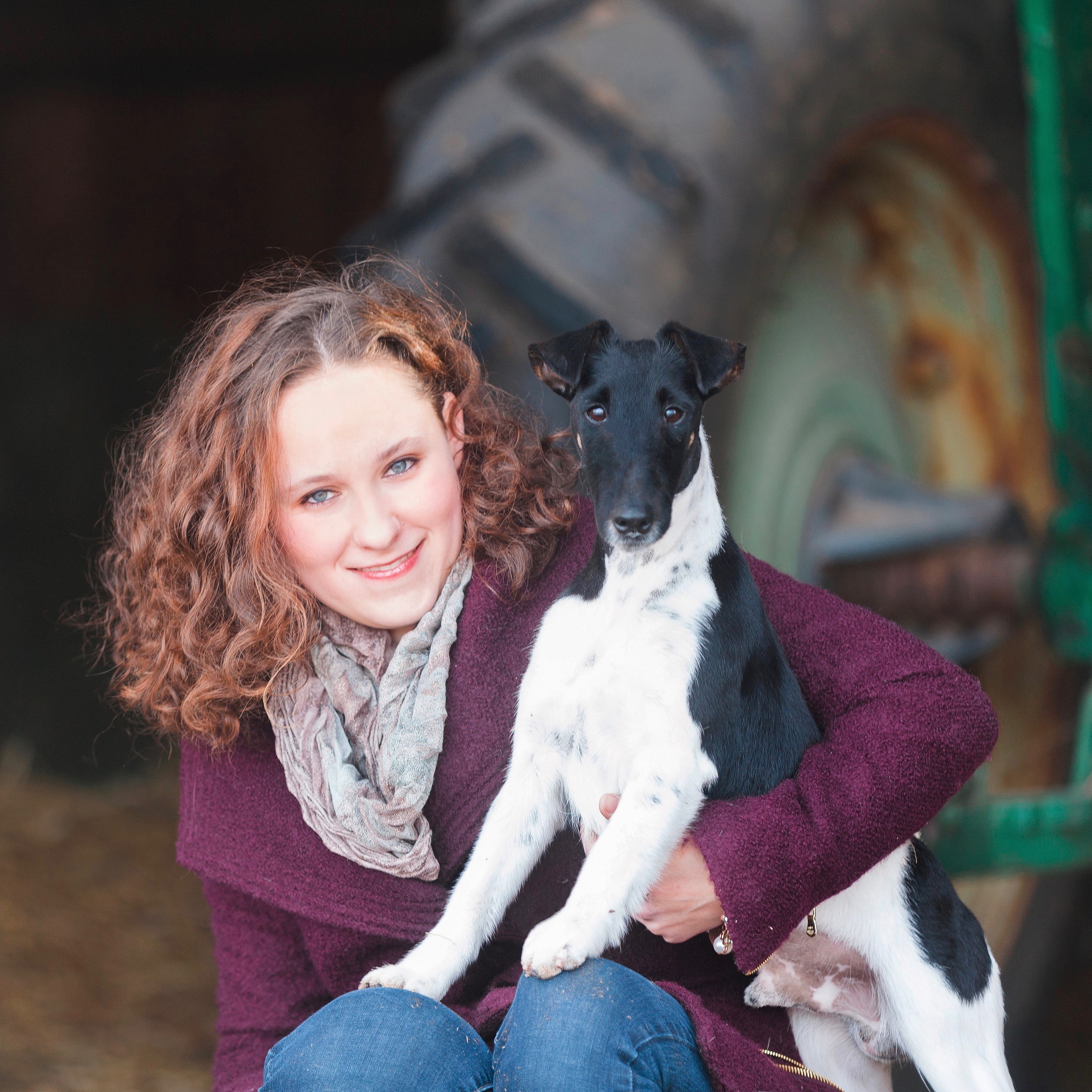 Jenn is a second generation dog fancier and her interest in AKC dog shows started at a young age. Her mother Candy Nee introduced her to show dogs when she started "Forever" golden retrievers, Jenn started her career in Junior Showmanship and was awarded Best Junior at the AKC National Dog Show in 2003. She specializes in Sporting Breeds, specifically Golden Retrievers, but also works with Labradors, and Nova Scotia Duck Tollers. Over the course of her career, Jenn has bred and campaigned multiple Top 20 Golden Retrievers, won multiple Specialties including the 2019 Duck Toller National, and bred, owned and handled three generations of Best in Show winners. In 2014 Jenn piloted MBIS BISS GCH Forever's All Jacked Up SDHF OS to #2 Golden, completely breeder owner handled, "Whiskey" continues to be the only golden retriever to win People Choice at GRCA national twice.
Today, she continues her love of the sport by breeding Golden Retrievers under the "Forever's" prefix.
Stephanie Hentschel
Stephanie has been involved in the sport of dogs for more than half of her life. She was given her first Pomeranian to show in Junior Showmanship at the age of 11, a breed that she continued to show until she aged out of Juniors. She worked for 8 years as an apprentice to professional handlers learning the ins and outs of care, conditioning, and presentation of many breeds. Throughout this time she also worked closely with a respected breeder and mentor of Pomeranians and began breeding and showing her own Poms under the DarRight kennel name. She now handles professionally and has campaigned several top dogs within the breed. Stephanie is an AKC Junior Showmanship judge and is actively involved in the American Pomeranian club in several roles, including as the Pomeranian breed columnist for the AKC Gazette magazine.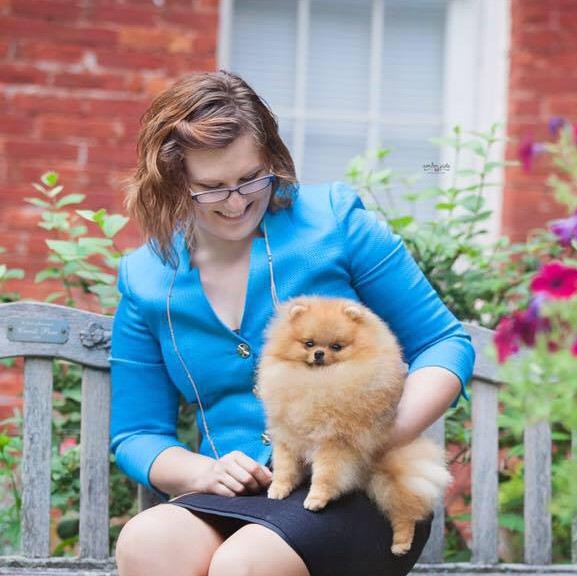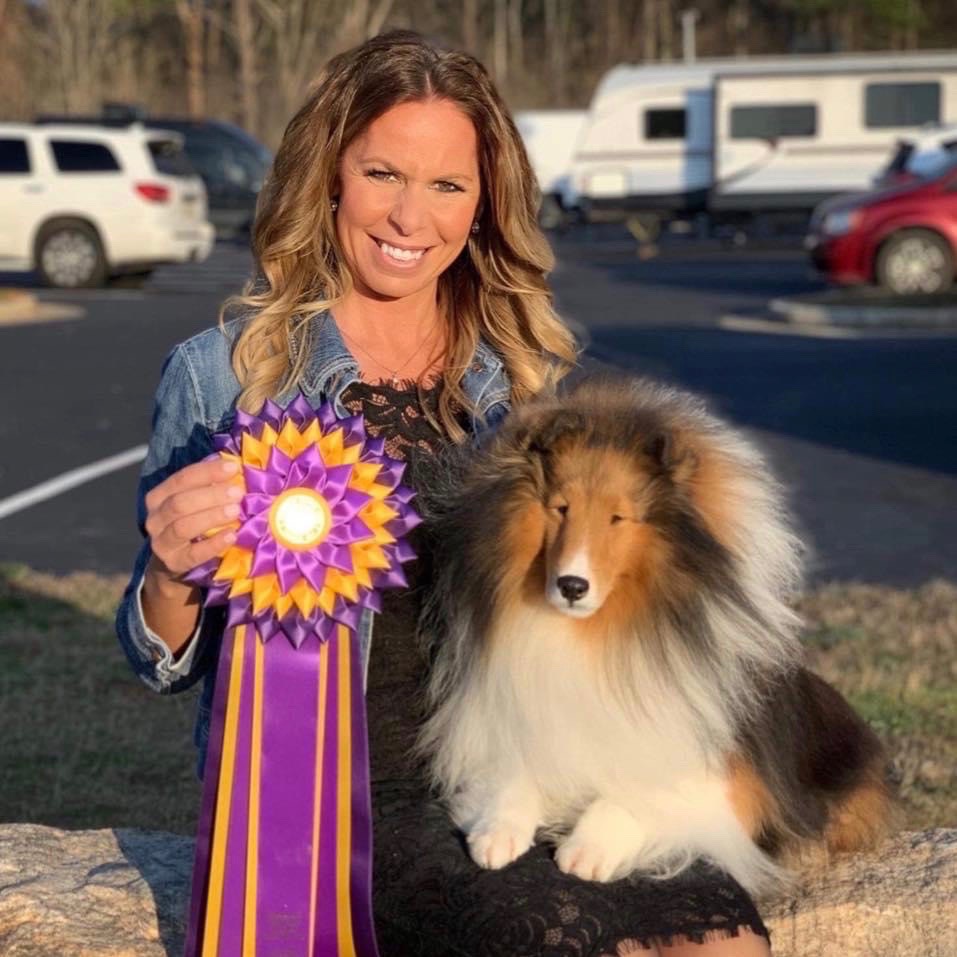 Jessica Starbuck Russell
Jessica's passion for pure bred dogs began over 30 years ago showing her Shetland Sheepdog in Junior Handling. Over the past 30 years Jessica has bred over 50 champions as well as dogs that have achieved great titles in Canada, Japan, China, Peru, and Colombia.
She has won other numerous awards as a breeder-owner-handler such as American National Specialty Show Best of Breed, Canadian National Specialty Show Best of Opposite Sex, American National Specialty Show Best in Futurity, and Bred By Herding Group Winner at Eukanuba to name a few.
As a professional handler, Jessica has campaigned multiple top five Shetland Sheepdogs; including #1 Shetland Sheepdog and multiple Best in Show winners!
We are very excited to have Jessica on board to bring her Shetland Sheepdog expertise to our school!
Colton Johnson
Colton's business of dogs started with his parents Douglas and Michaelanne Johnson in 1972 laying a foundation for the love of dogs. Owning two boarding, training and grooming facilities in Colorado, they also started the breeding program of Old English Sheepdogs under Bugaboo and Bouvier Des Flandres under Rocheuses . They had 5 children who are all still active in the family business of dogs. The life of dogs has taken his family down an incredible path. His parent's efforts in the sport of pure-bred dogs have helped them achieve prestigious awards winning AKC Breeder of the Year in both 2006 &2016, Dogs In Review Breeder of the Year and Santa Barbara KC breeder of merit recognition.
Colton has been training, handling and grooming dogs professionally for 22 years. He has campaigned dogs to top dogs on national levels including; top dog in country, multiple top dogs in breeds and groups, Top Winning male and female Old English Sheepdog of all time, and top owner handler of all time.
 Colton has given national and international grooming and training seminars specializing in his perspective breeds. He works with Colorado Springs Municipal Courts with pet management classes for behavior modification, local hospitals on temperament tests and training for emotional and therapy dogs. He has also trained service dogs specializing in full mobility, children with autism, and PTSD.
 His training department will cover confirmation, obedience, rally, agility, nose work and everyday pet dog training including behavior modification. 
 Grooming will cover scissor work, clipper work, hand stripping and everyday grooming. 
Our page will share breeding information, such as timing, preparing for whelp, whelping information and puppy evaluations.
Colton hopes he brings forth some knowledge to you working with "All Things Dogs College."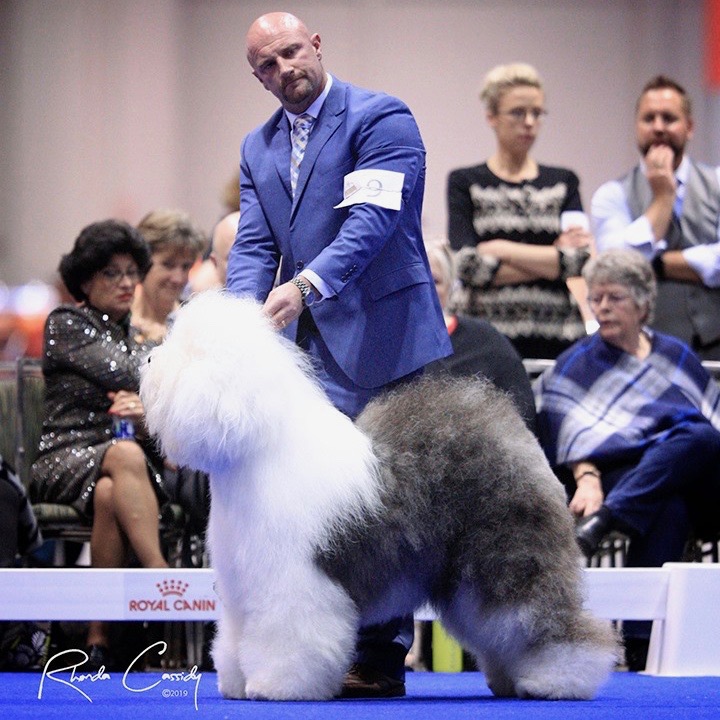 Trisha Lynn is a Great Dane owner, breeder, and handler with a passion for dogs and a talent for all things craft! Trisha is a Registered Cardio Vascular Nurse, and in her spare time she runs her own business Trisha Lynn Designs!
Trisha will be bringing fun courses to our college on how to make braided, beaded show leads, as well as other courses on how to make collars!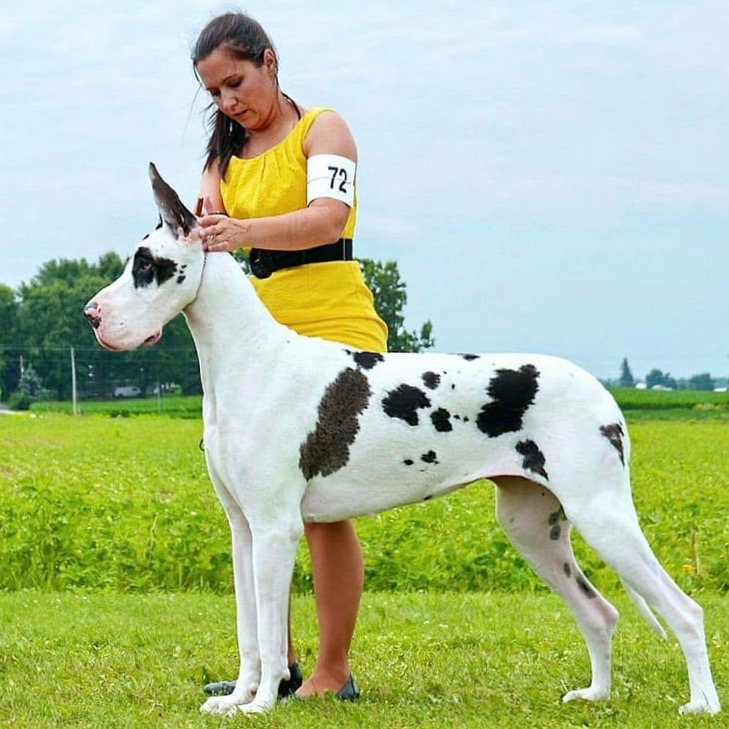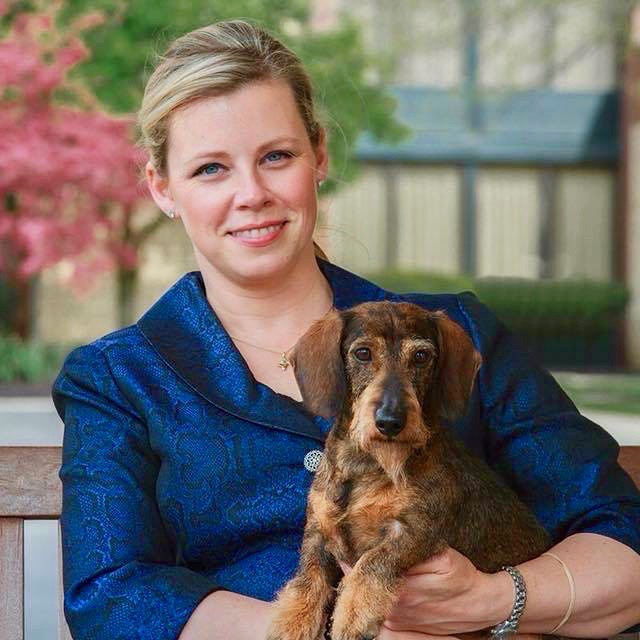 Angela Lloyd
Angela Lloyd is a second generation dog fancier. She started showing at the age of 8 in breed classes with her fathers German Shepherd Dogs and her Pembroke Welsh Corgis.   As soon as she was eligible she participated in junior showmanship. Her dedication to showing dogs in AKC events was seen in many wins and in her crowning Junior achievements of Best Junior Handler at Westminster Kennel Club in 1998 and also Best International Junior Handler at the CRUFTS dog show in England in 1998.  Angela was an apprentice to professional handlers Robert and Jane Fowler for 10 years where she became passionate about Dachshunds. The Fowler's gifted Angela her first Miniature Wireharied Dachshund in 1994 from which she started breeding Miniature Wirehaired Dachshunds under the ALEGNA prefix. Her passion for Dachshunds can be seen through her dedication to her breeding program.  After attending Penn State University earning a BS in Business Finance, Angela has gone on to have a successful career as an all-breed professional handler where Dachshunds have been a major part of her career. She has shown Dachshunds of all three varieties to AKC All-Breed Best in Show wins. She has placed in the Hound group three times at Westminster KC, Including piloting "Hickory" the Scottish Deerhound to Best In Show in 2011.
Carissa Shimpeno
From the time I could walk I had a leash in my hand. I was born into Dobermans. My grandmother and founder of Alisaton Dobermans started my family in dogs over 50 years ago. My mother, Gwen DeMilta, is a professional dog handler and breeder. We have bred over 200 American Champions.  I am also a professional handler and breeder. When I was eleven I begged my mom to let me show in Junior Showmanship. She was reluctant to let me do so because she feared it took too much focus off the dogs and placed too much importance on the handler. Full of tenacity I asked my Aunt Terry ( Terry Hundt ) to stand up on my behalf.  I am so grateful to my Aunt Terry for helping convince my mom to give me the opportunity. Through Junior Showmanship I won a trip to both Crufts Dog Show and the World Show. At the age of twelve I represented the USA in both shows. I think the most important lessons, of the many valuable lessons I learned from Juniors, was how to be a good winner and a good loser.  I also built lifelong friendships through the Juniors ring.
I traveled with my mom for many years.  My mom had me train any puppy or new dog that came to us.  She taught me how to care for the dogs. She taught me how to develop relationships with each individual dog.  I learned many valuable lessons from my mom that prepared me for my ultimate goal to become a professional handler.
I started showing dogs professionally at the age of twenty.  My dream was to have a number one Doberman. I worked the next seven years towards that goal.  During that time I also started breeding dobermans with my mom. To date we have bred sixty Doberman champions together.  I also married my best friend, Eric Shimpeno, in 2007 and we had our first son, Tristan, in 2010.
In 2008 I was given the most amazing opportunity of all.  My mom, Carmen Pitts and Julie Porter decided to let me show CJ, Ch. Allure Blazing Star Alisaton.  I went to my Aunt Terry and her partner Nancy Bosley and asked them if they would be interested in backing CJ for us and they agreed.  This is yet another amazing opportunity that I owe to my Aunt Terry. We had a goal of being the number one Doberman but CJ had other plans.  She was the number one Doberman, number one Working dog and number two dog among all breeds in 2009. She won 54 Bests in Show in her one year career and won the Working group at the 2010 Westminster Kennel Club.
After achieving my dreams as a handler with CJ I was blessed enough to achieve my dreams as a breeder by winning best of breed at the 2010 regional specialty and winning the 2011 top twenty with breeder owner handled CH. Alisaton Flight of the Phoenix. Phoenix's owners Pistol and Madeline Tingen are truly kind hearted people and have become family members.
I consider myself the luckiest girl in the world. I get to do what I love most surrounded by my family and friends and I look forward to all the things our wonderful sport still has to teach me.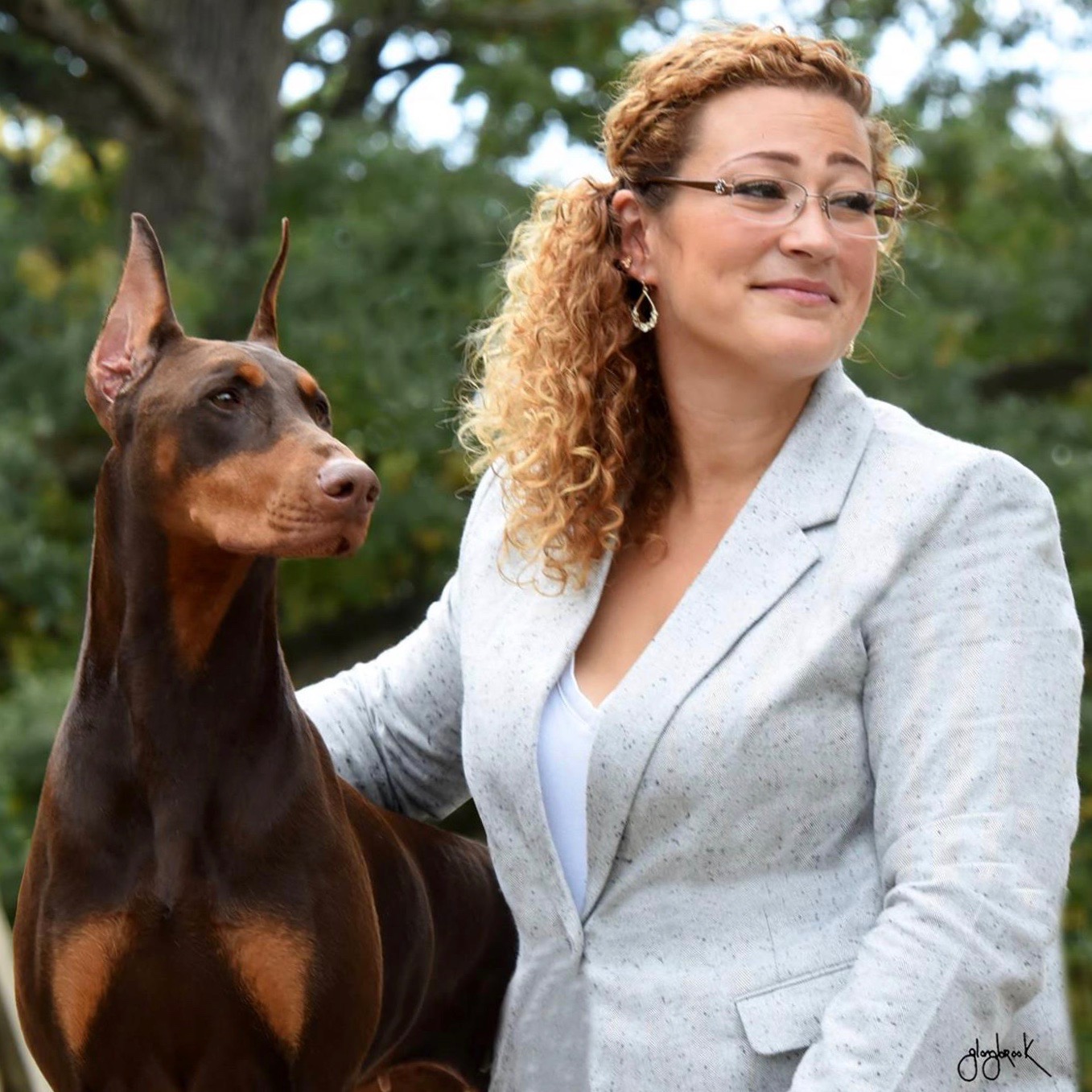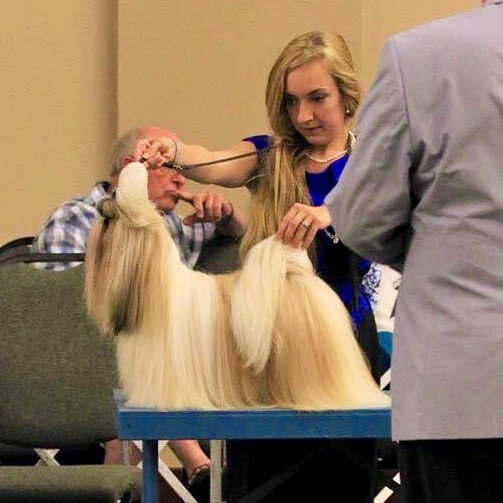 Angela Cooke
Angie Cooke has been showing dogs in conformation, obedience, and agility since she was ten years old. She apprenticed under Jody Garcini (Paquette) for six years and during that time she discovered her passion for the Shih Tzu through the Wenrick dogs. She apprenticed under Luke and Diane Ehricht for several years as well and learned a wealth of knowledge from the Ehrichts'. Throughout her career she learned the finer points of the Shih Tzu breed. Now as a professional handler for many years, she prides herself on presenting beautiful dogs to their highest potential. Angie has exhibited Shih Tzu to Best in Specialty Show wins, Group wins, had Top Five ranked dogs in all-breed and breed rankings, finished many Shih Tzu to their Championship and Grand Championships. In her courses Angie will cover all the finer points of caring for and exhibiting drop coated dogs, as well as help the absolute beginner. She is eager to educate and share
Rich Louter is a professional gun dog trainer from Georgia, he trains retrievers, flushing dogs as well as pointing dogs. He's trained for and earned titles on many different sporting dog breeds than any other trainer in the country in multiple venues including AKC, UKC, NAHRA, & NAVHDA.
As an avid waterfowler and upland bird hunter, Rich learned early on the importance of the bond between hunter and dog and developed a training program to teach dogs the skills necessary to be a reliable hunting companion.
Rich's training program is designed to get the most out of a dog using a low pressure method that builds momentum and confidence while creating a trusting bond. 
Angie Louter has owned several breeds of dogs early on including a group winning top 20 Lhasa apso. 
After finding out her daughter was allergic to dogs, poodles became her family dog of choice. She's bred many AKC champions including one that won select bitch at the Eukanuba dog show in 2018 and holds the record as top winning Poodle in the history of the breed with a hunting title. Her passion is showing the versatility of poodles and earning titles in many different performance dog sports (Obedience, hunt tests, barn hunt, dock diving, scentwork, fast cat coursing, etc)
She's bred over 40 poodles that hold multiple AKC titles in various dog sports. 
Together their work has been published in articles worldwide and they continue to mentor their puppy buyers and fellow dog enthusiasts.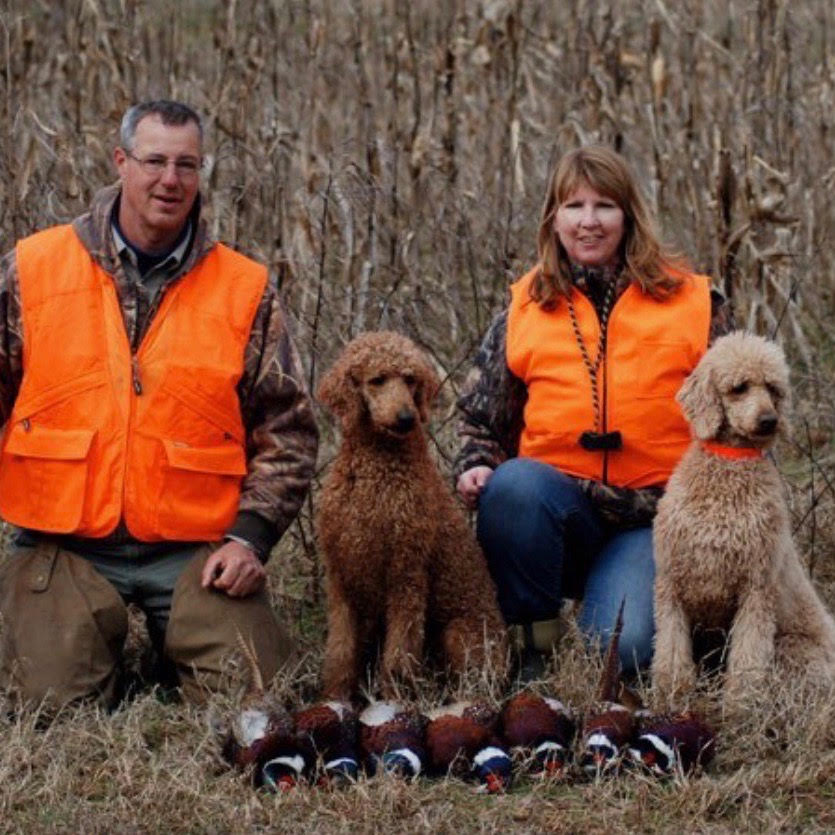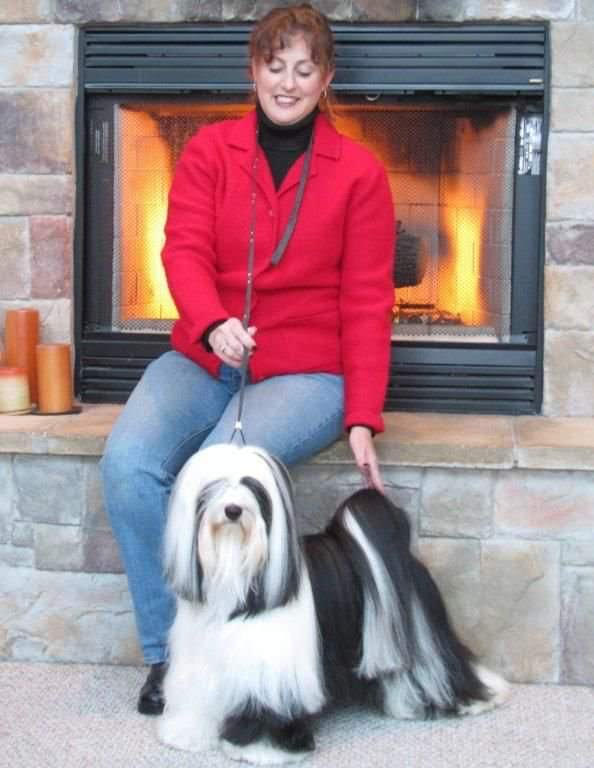 Lynn is a third generation purebred dog breeder and exhibitor. Her parents, now AKC judges, were professional dog handlers and Lynn grew up attending shows with them and learning the finer points of handling and conditioning top show dogs. Lynn started showing dogs, a whippet, at the age of eight. Lynn became a well known and successful professional handler showing most all breeds and specializing in coated breeds. She has been involved in Tibetan Terriers since the early '90's. She won her first Best in Show on a Tibetan Terrier in 1995 with a female from the Barnstorm Tibetan Terrier kennel. That relationship formed a friendship and partnership that continues to this day. Shortly after that Lynn began breeding Tibetan Terriers using the Dzine prefix. She has bred or handled 5 different TTCA National Specialty winners, and 8 different Best in Show Winners. She has also bred or handled multiple #1 TT's in the US and the # 1 TT in Canada. The Dzine TTs are top winners around the world. While Lynn no longer handles professionally the Dzine Tibetan Terrier breeding program remains. Lynn has always been known for her excellent conditioning and presentation of the Tibetan Terrier.
Janice Hayes
Bio Coming Soon!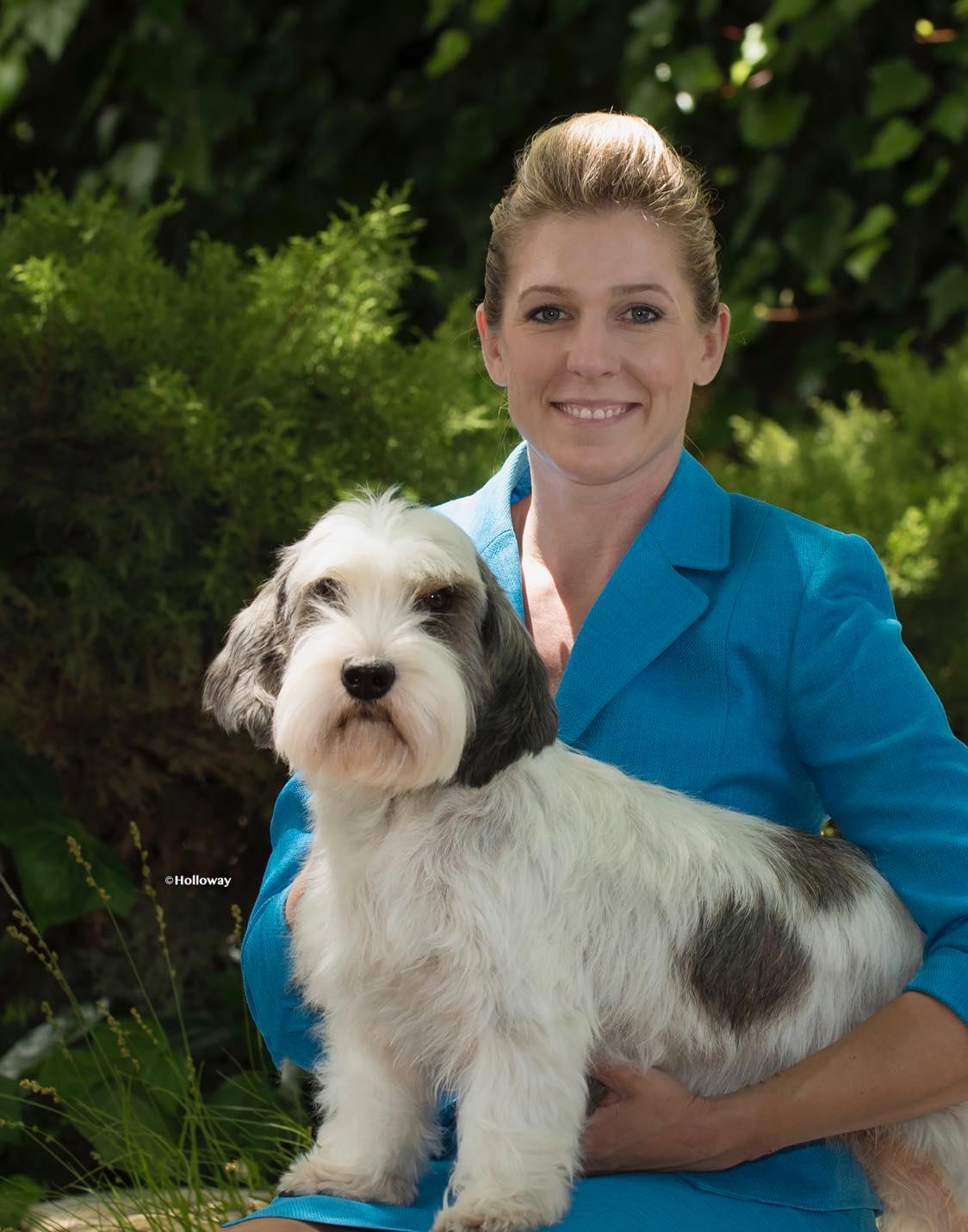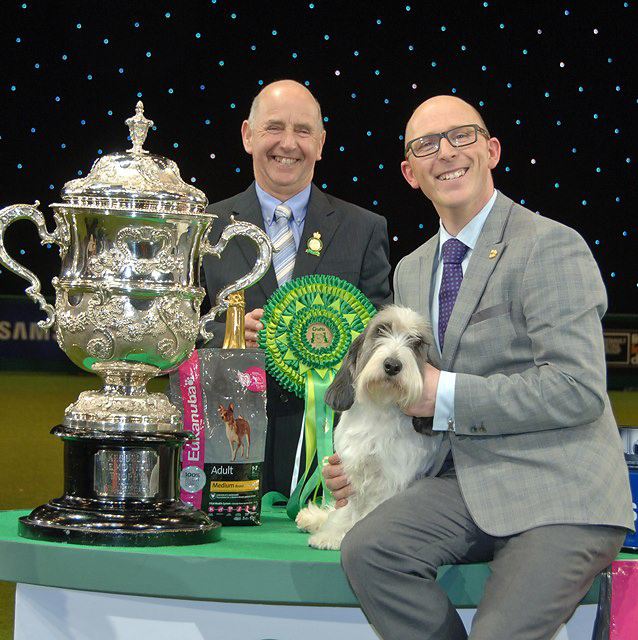 Gavin Robertson
Bio Coming Soon!